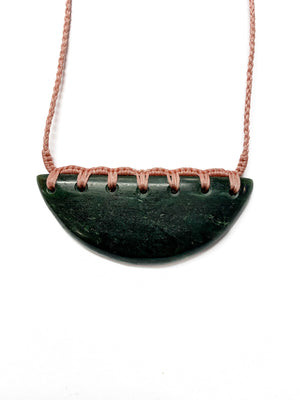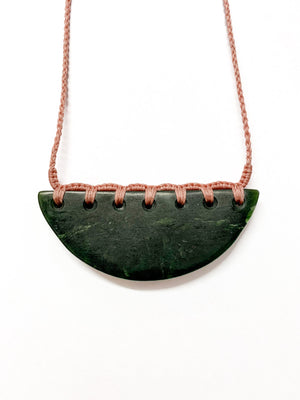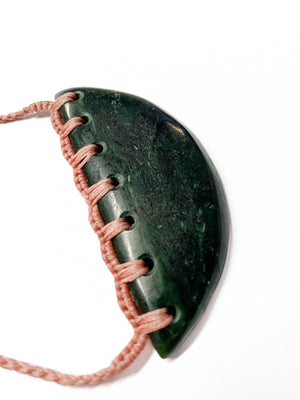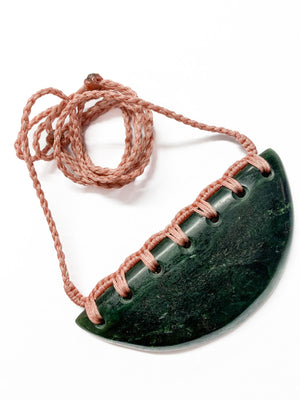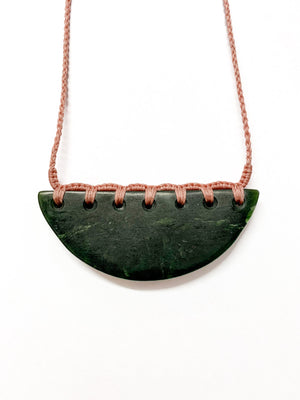 Medium Breastplate Pounamu New-Zealand Greenstone
72mm wide 4mm thick 32mm tall. Finished with an adjustable 4-plait pink waxed cord.
Serpentine Pounamu sourced from Arahura River, Te Tai o Poutini o Te Waipounamu West Coast of the South Island
BREASTPLATE MEANING:
The Breastplate symbolises strength, bravery and honour.
Wearing a breastplate can help you find strength, courage, protection and a feeling of safety and calmness. Fortune favours the bold.
Breastplates have been made for ornamental and spiritual purposes in many different parts of the world throughout history. Based on armour protecting the vital organs, breastplates are worn flat across the chest for honour and spiritual protection. Our breastplate design is influenced by both Indigenous Latin American ornaments of tribes such as the Muisca (Colombia) and the Rei Puta, Rei Niho designs in Māori whakairo traditional carving.
ABOUT ORONEGRO:
Crafted by hand at the Oronegro Carving Studio on Karangahape Road. We follow Māori Whakairo protocol in crafting taonga that honours the traditions of tangata whenua o Aotearoa. As Colombian carvers, our practice is also about connecting with our own Indigenous South American art forms.
CARE INSTRUCTIONS:
Our Taonga is made to be worn daily. You can shower with it on. It is advised that during physical activity you take off your pounamu or wear it under your clothing. Pounamu will absorb your skin's oils, so if your taonga is looking dry you can rub it against your skin. Alternatively, you can rub into the stone a tiny amount of natural oil such as coconut or olive oil for shine.