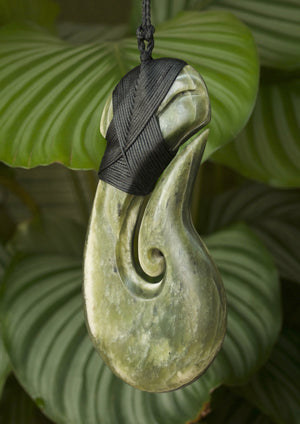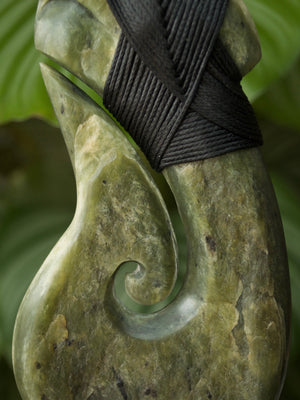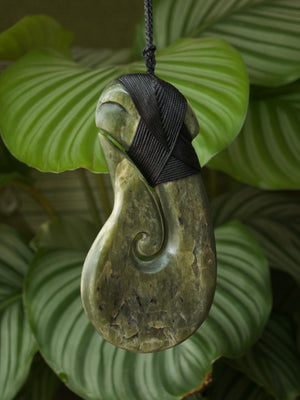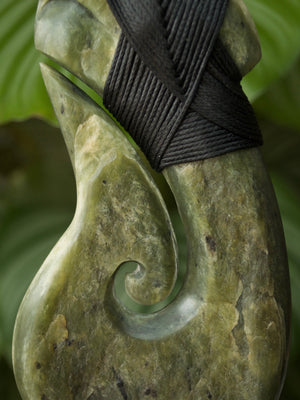 Sculptural Hei Matau Kawakawa Raukaraka Pounamu
74mm wide 18mm thick 142mm tall
We can add a cord in this piece to be wearable for special ceremonies or we can make a base in wood or stone.
Kawakawa Raukaraka Certified Ngāi Tahu Pounamu from Te Tai o Poutini o Te Waipounamu West Coast of the South Island
The Hei Matau symbolises strength, prosperity, fertility and a connection to the land and sea. 
Wearing a hei matau brings you protection and good luck, especially in travel or with water activities. This particular piece makes for the perfect farewell gift.
The hei matau is a significant traditional taonga of Māori that expresses the deep connection that tangata whenua have with the sea. Māori held high reverence for Tangaroa the god of the sea and made intricate carvings on their matau hooks to connect with Tangaroa and bring good luck to their fishing excursions. The legend of the North Island, Te Ika a Māui "The fish of Māui" goes, the land was once a giant fish that got pulled out of the sea by the demi-god Māui, using a fishhook made of his grandmother's jawbone.
OUR STORY
Crafted by hand at the Oro Negro Studio on Karangahape Road. We follow Māori Whakairo protocol in crafting taonga that honours the traditions of tangata whenua o Aotearoa. As Colombian carvers, our practice is also about connecting with our own Indigenous South American art forms. Acknowledging and upholding the principles of Te Tiriti o Waitangi is an integral part of our Aotearoa New Zealand perspective.
CARE OF YOUR TAONGA
Pounamu polishes and shines itself overtime by absorbing the natural oils of your skin. Likewise, rubbing into the stone's surface a natural oil such as olive or coconut oil will also add lustre. Our pounamu can be worn daily, yet care should always be taken to minimise impact which could potentially cause hairlines cracks or breaks. Wearing your pounamu close to the skin will always act as a protective measure.