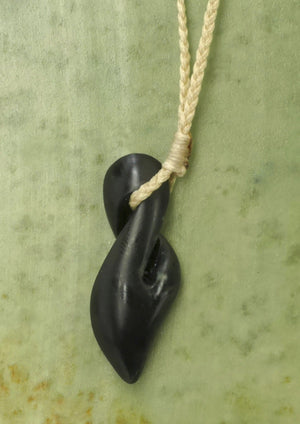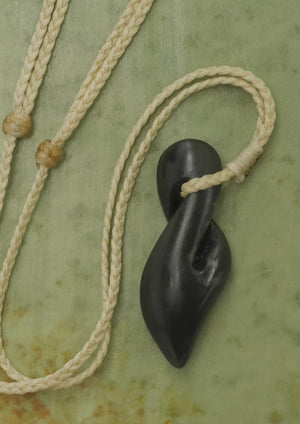 Pikorua / Twist, Pounamu New Zealand Greenstone
Double Twist
(L43 x D8 x W14) cm

Pikorua (twist) is a contemporary design resembling two intertwined pikopiko ferns; a native species of Aotearoa. The interconnectivity of the organic pikopiko form connotes a sense of  emergence.

Māori knowledge, mātauranga intrinsically recognises that all animate and inanimate elements are infused with spirit or living essence; encompassing the element of stewardship, or kaitiakitanga, associated with the term when it is used in relation to resources, including land and water.
OUR STORY
Crafted by hand at the Oro Negro Studio on Karangahape Road. We follow Māori Whakairo protocol in crafting taonga that honours the traditions of tangata whenua o Aotearoa. As Colombian carvers, our practice is also about connecting with our own Indigenous South American art forms. Acknowledging and upholding the principles of Te Tiriti o Waitangi is an integral part of our Aotearoa New Zealand perspective.
CARE OF YOUR TAONGA
Pounamu polishes and shines itself overtime by absorbing the natural oils of your skin. Likewise, rubbing into the stone's surface a natural oil such as olive or coconut oil will also add lustre. Our pounamu can be worn daily, yet care should always be taken to minimise impact which could potentially cause hairlines cracks or breaks. Wearing your pounamu close to the skin will always act as a protective measure.