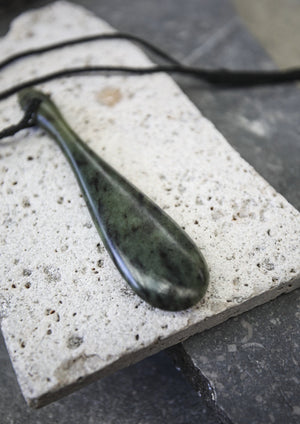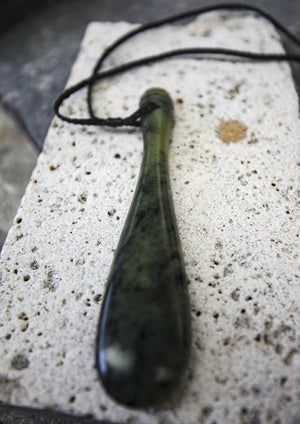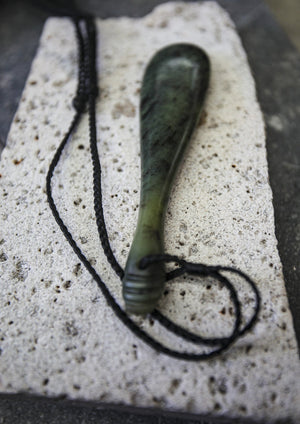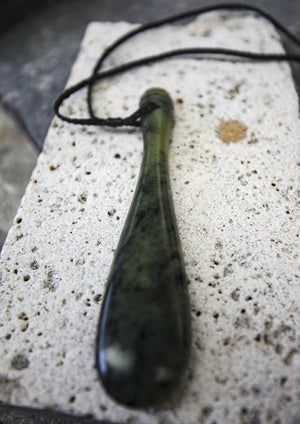 Mere Pounamu Aotearoa New Zealand Greenstone
(H115 x  W26 x D10) mm / adjustable waxed cord

The greenstone patu — mere pounamu — was the most revered of all Māori weapons. They were symbols of chieftainship and regarded as valuable heirlooms. The mere is a spatulate, leaf shaped, form of short club. It has a broad, rounded apex that narrows to form a handle, terminating in a butt or heel (reke), marked by several grooves. Mere have two convex, almost flat sides and a rounded top. The top of the mere was ground to a sharp edge, extending down both sides of the weapon.

All Maori tribes have stories of pounamu artefacts. In particular, toki (adzes), mere pounamu and toki poutangata are central in these. These items are often given names, and they are seen as being tapu (sacred) and having great mana (status). They were a talisman to remind people of stories of battles and great events in which their ancestors took part. They were also a physical representation of connection, through whakapapa (genealogy), to venerated ancestors, and the artefacts were often remembered in songs.
OUR STORY
Crafted by hand at the Oro Negro Studio on Karangahape Road. We follow Māori Whakairo protocol in crafting taonga that honours the traditions of tangata whenua o Aotearoa. Acknowledging and upholding the principles of Te Tiriti o Waitangi is an integral part of our Aotearoa New Zealand perspective.

CARE OF YOUR TAONGA
Pounamu polishes and shines itself overtime by absorbing the natural oils of your skin. Likewise, rubbing into the stone's surface a natural oil such as olive or coconut oil will also add lustre. Our pounamu can be worn daily, yet care should always be taken to minimise impact which could potentially cause hairlines cracks or breaks. Wearing your pounamu close to the skin will always act as a protective measure.