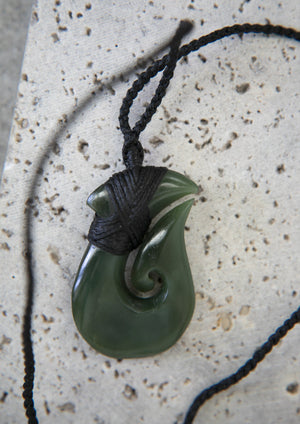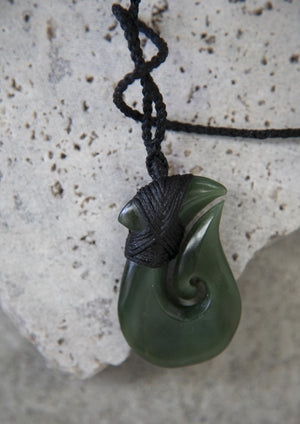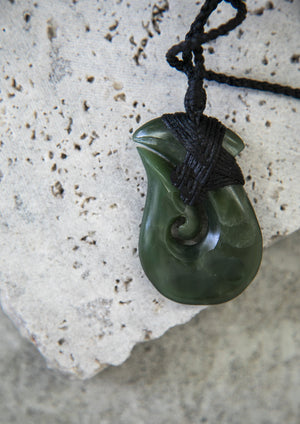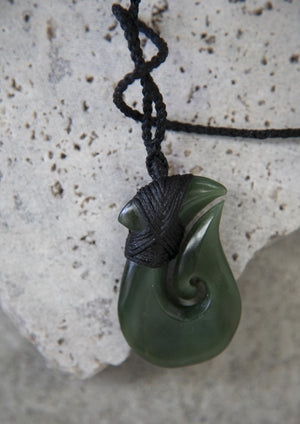 Hei Matau Pounamu Aotearoa Greenstone
(W28.5 x H48.5 x D9) mm

Adjustable waxed cord

Traditional matau hooks were made in all sizes, and are distinctive but seemingly highly variable in shape. Fishhooks
made of greenstone were usually less than 60–70 mm in length, while larger hooks consisted of wooden shanks made from binding saplings to create the required shape, and bone points.

According to metaphorical narrative, Mäui hauled up the North Island of New Zealand, Te Ika-a-Mäui (the Fish of   Mäui), from the depths of the ocean during a fishing expedition with his brothers. Hei matau also denote the importance of fishing to Mäori, and their relationship to Tangaroa, the guardian of the sea and its environ.

 Crafted by hand at the Oro Negro Studio on Karangahape Road. We follow Māori Whakairo protocol in crafting taonga that honours the traditions of tangata whenua o Aotearoa. As Colombian carvers, our practice is also about connecting with our own Indigenous South American art forms.

CARE OF YOUR TAONGA
Pounamu polishes and shines itself overtime by absorbing the natural oils of your skin. Likewise, rubbing into the stone's surface a natural oil such as olive or coconut oil will also add lustre. Our pounamu can be worn daily, yet care should always be taken to minimise impact which could potentially cause hairlines cracks or breaks. Wearing your pounamu close to the skin will always act as a protective measure.