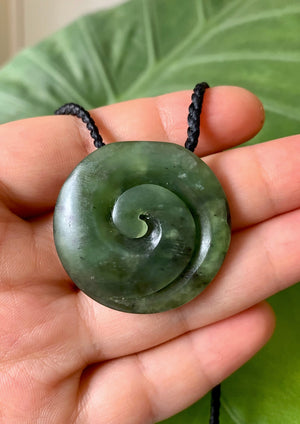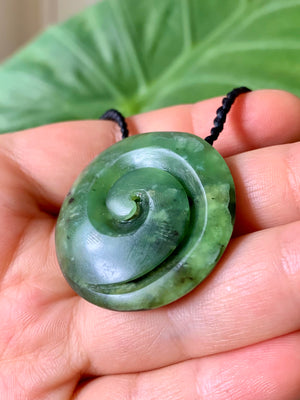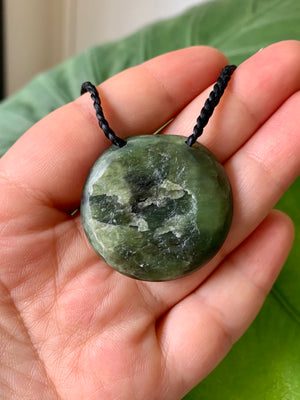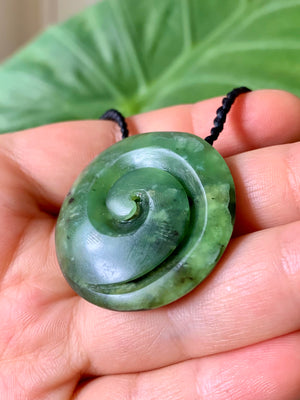 Hei Koru Kawakawa Pounamu New-Zealand Pendant with raw side (Medium)
35mm diameter 8mm thick
adjustable 3-plait black waxed cord
Kawakawa Pounamu sourced from Arahura River, Te Tai o Poutini o Te Waipounamu West Coast of the South Island
The Koru symbolises new life, new beginnings and new hope - making it a perfect gift to celebrate a new chapter in someone's life.
Wearing a koru gives you harmony, peace and the energy of growth and nurturing. It also affirms your connection with your loved ones, whānau family, whakapapa genealogy as well as Papatūānuku Mother Earth.
The koru, meaning loop or coil, mimics the pītau (unfurled shoot) of our native ponga, the iconic silver fern. While the plant is only found in Aotearoa, the spiral is a universal pattern found all across nature. The symbol represents the essence of life being in perpetual motion yet ever the same; always returning to origin. Koru has always used by Māori to represent nurturing and connection. Koru form kōwhaiwhai patterns, which are found everywhere in traditional Māori art, architecture, carving and tattoo. Their symbols share the stories of their whakapapa.
Crafted by hand at the Oro Negro Carving Studio on Karangahape Road. We follow Māori Whakairo protocol in crafting taonga that honours the traditions of tangata whenua o Aotearoa.

CARE INSTRUCTIONS:
Our Taonga is made to be worn daily. You can shower with it on. It is advised that during physical activity you take off your pounamu or wear it under your clothing. Pounamu will absorb your skin's oils, so if your taonga is looking dry you can rub it against your skin. Alternatively, you can rub into the stone a tiny amount of natural oil such as coconut or olive oil for shine.